Updated By: LatestGKGS Desk
Indian Para Commandos Eat Glass To Acquire Balidaan Badge: Training Selection Process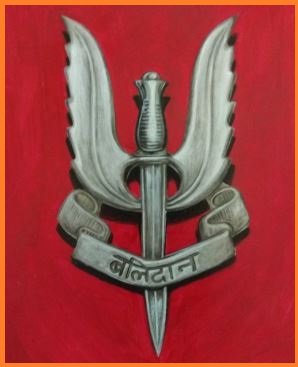 Indian Para Commandos Eat Glass To Acquire Balidaan Badge: Details, Training, Selection Process, Features
Indian army's para commandos acquire the "Balidaan badge after extreme training & hardships and are attached to the consciousness of it.
Indian Para Special Forces or Para SF are identified by medals on the chest, pink cap, parachute regiment mark on it and sacrificial badges on the chest
Para commandos are capable of eliminating enemies of weapons without any weapons.
To become Para Commando, all the soldiers have to qualify as paratroopers. After selecting it, he can choose Special Forces.
The personnel involved in the Indian Army can apply for paratroopers only. There is a 3 month probation period for which they have to undergo many physical and mental tests.
Those passing in the test are sent to Paratroopers Training School, Agra, UP, where they have to set 5 jumps from the sky, one of which is laid in the dark darkness.
After this, the young people who want to go to the Para (Special Forces) have to do extra training for three months. This means training for Special Forces is of 6 months.
Para Commandos are also called 'Glass Eaters', that is, they have to eat glass. This is a tradition. After getting a cap, they are given a rum-filled glass. After drinking it, the soldiers have to cut the edge of the glass with teeth and chew it and then swallow it inside. After this, a sacrificial badge is imposed on the chest of the soldiers.