Updated By: LatestGKGS Desk
Benelux Economic Union: The establishment of the Benelux Economic Union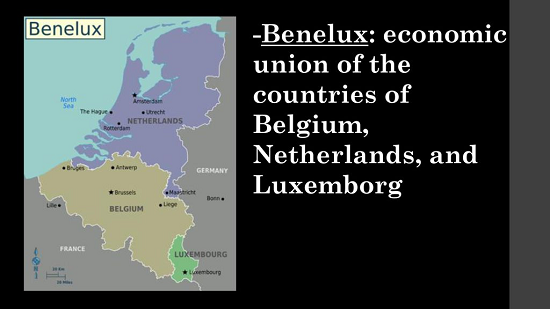 Benelux Economic Union: The establishment of the Benelux Economic Union and Benelux Institutes
The name of the association was formed by including the first two or three letters of each member country name; Belgium, Netherlands and Luxembourg, and this name were first used during the implementation of the Union Customs Agreement (signed 1944).
Now it is used in a very general way to refer to the geographical, economic and cultural groups of the three countries.
The establishment of the Benelux Economic Union was a treaty between the Benelux countries that was limited to that period of that year.
The original Settlement Treaty was set to end in 2001, which was replaced by a new legal framework (the establishment of the Benelux Economic Union called the Treaty Revision), which was signed on 17 June 2008.
There is no fixed deadline for the new treaty and the name of the Benelux Economic Union was changed to reflect the scope of the Benelux Union's association.
Five Benelux Institutes are:
1. Benelux Ministers Committee
2. Benelux Council
3. Benelux Parliament
4. Benelux Justice Court
5. Benelux Secretariat General
In addition to these five institutions, the Benelux organization! Intellectual property is also present in this treaty.