Updated By: LatestGKGS Desk
European Union bans single use plastics: Details, Aim, Significance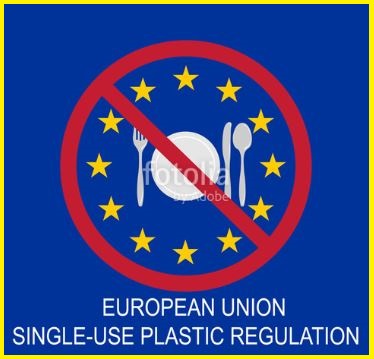 European Union bans single-use plastics Details, Aim, Significance
European Union (EU) parliament has banned single-use plastic products. It includes plastic cutlery, cotton buds, straws, and stirrers as part of a sweeping law against plastic waste that despoils beaches and pollutes oceans.
The vote by MEPs (Members of European Parliament) strengthens the way for prohibiting single-use plastics to come into force by 2021 in all EU member states. Also, the United Kingdom would have to follow the rules if it took part in and extended the Brexit transition period.4
European Union member states will have to introduce measures to reduce the use of plastic food containers and plastic lids for hot drinks.
By 2025, plastic bottles should be made of 25% recycled content, and by 2029 90% of them should be recycled. Wet wipes, sanitary towels, tobacco filters, and cups will be labeled if they are made with plastic.
Packaging will warn consumers of environmental damage they do by disposing of these items incorrectly.
The "polluter pays" principle will be extended to manufacturers of fishing nets so that companies – but not fishing crews – pay the cost of nets lost at sea.
The 'polluters pays' principle is the commonly accepted practice that those who produce pollution should bear the costs of managing it to prevent damage to human health or the environment. For example, a factory that produces a potentially poisonous substance as a byproduct of its activities is usually held responsible for its safe disposal.