Updated By: LatestGKGS Desk
Bharhut Stupa: History,Location, Discovery, Sculpture, Inscription, Main features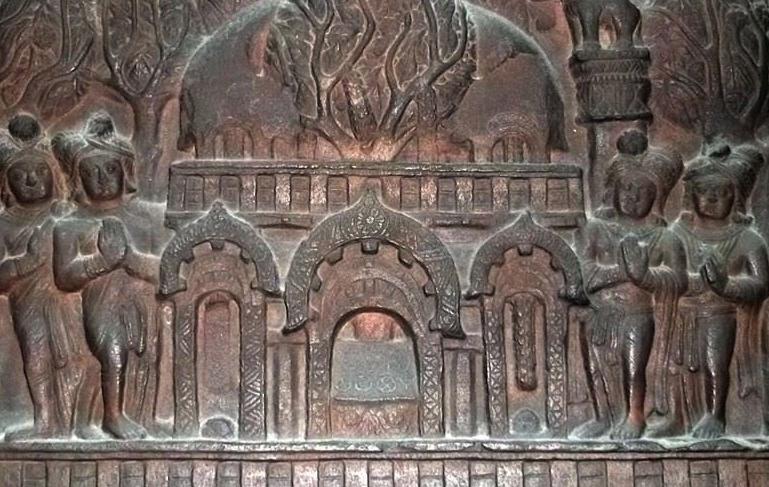 Facts and descriptions about the sculptures of Bharhut: The great Buddhist Stupa of Bharhut, relics, history, and significance
The popular stupa of Bharhut presents a good example of Buddhist art and architectures of Mauryan and Sunga Age. The Bharhut Stupa is located in a village which is 14.50 km away from Satna District in Madhya Pradesh. The stupa has completely destroyed. Some of the remains of this famous stupa are now in the Indian Museum of Kolkata, Allahabad Museum, and the Bharat Kala Bhavan Varanasi.
Discovery: Alexander Cunningham (1873)
Location: Satna, Madhya Pradesh.
Founder: The Bharhut Stupa was built by the Mauryan king Ashoka. Later in the Sunga period, many works of art (gateway, railings) were added in the Stupa.
Year: 300-200 B.C.
Sculpture: The shape of the Bharhut Stupa was like a hemisphere. The original stupa had 80 pillars in it. Cunningham found only 49 pillars safe. The stupa presents Gandhara Art and gives a glimpse of Hellenistic art affected by Indo-greek culture. The only safe parts of the stupa are the eastern gateway, architraves, and railings. They display the life of Buddha, Jataka stories, Mahabodhi temple, diamond throne, Dharmachakra, yakshas, and yakshinis.
Inscriptions: The inscriptions are written in the local Brahmi. Some of the parts have Kharoshti script. They tell about 136 donors; 58 men, 36 women, 25 bhikkhu, and 16 bhikkhunis.