Updated By: LatestGKGS Desk
GK Questions 28th April 2019 General Knowledge, Current Affairs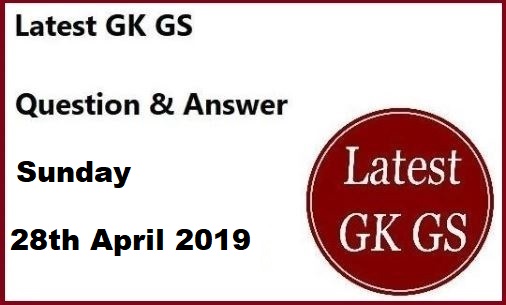 Daily GK Questions 28th April 2019 General Knowledge, Current Affairs
1. When is the World Day for Safety and Health at Work is celebrated every year?
Ans:- 28th April 2019
2. How many medals did India win at Asian Boxing Championship?
Ans:- 13 medals

3. Which terror outfit has claimed the responsibility of the devastating Easter bomb blasts in Sri Lanka?
Ans:- Islamic State (ISIS)

4. The voting for the third phase of Lok Sabha Elections 2019 was held for how many constituencies?
Ans:- 117

5. Which city is hosting the 23rd edition of the Asian Athletics Championship?
Ans:- Doha

6. When the International Dance Day is celebrated every year?
Ans:- 29th April 2019

7. Which Indian players wins a silver medal each at Asian Wrestling Championship?
Ans:- Gurpreet Singh and Sunil Kumar

8. The United States imposed sanction on which country that may deny visas to them?
Ans:- Pakistan

9. Which country has decided to end sanctions waivers for all importers of Iranian oil??
Ans:- United States

10. What is the name of Real-Time Voice Banking Platform that FSS has launched?
Ans:- FSS Voice Commerce