Union Budget 2019: New Rs 20 coin denomination Features, Shape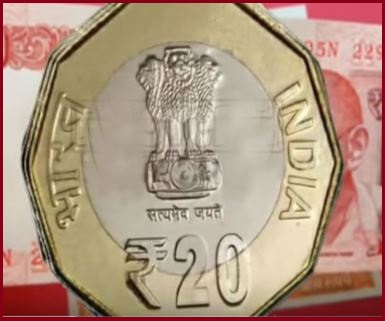 Union Budget 2019: New Rs 20 coin denomination to be introduced soon: Features, Shape, Color
Union Budget 2019 Modi 2.0 Government's Finance Minister Nirmala Sitharaman announced that new Rs 20 coin denomination to be introduced soon.
RBI will introduce the new series coins of one, two, five, 10 and 20 rupees will soon make available for public use. These new coins will be made available for public use shortly.
Earlier, Prime Minister Narendra Modi on 7th March 2019 had unveiled a new series of coins of one rupee, two rupees, five rupees, ten rupees and twenty rupees, easily identifiable to the visually impaired.
The new Rs 20 coin will be made in copper, zinc, and nickel. It will be 27mm (millimeters) and weigh 8.54 grams.

The Lion Capitol symbol of Ashoka Pillar with the legend "Satyamev Jayate" below it will be inscribed on its front side. The words "Bharat" in Hindi and "INDIA" in English will be there on the right and left-hand side of the symbol respectively.

On the reverse side, the coin will bear denominational value "20". Besides, it will have the rupee symbol above the denominational value "20".
Besides, it will have the 20 rupee symbol above the denominational value, flanked by design of grains depicting the agricultural dominance of the country. At the bottom of the reverse side, Twenty Rupees in Hindi and English will be written.

Just like Rs 10 coin, the new Rs 20 coin won't have any design on its edges.