Updated By: LatestGKGS Desk
Chagos Archipelago Island History, Geography in Indian Ocean, Historical Importance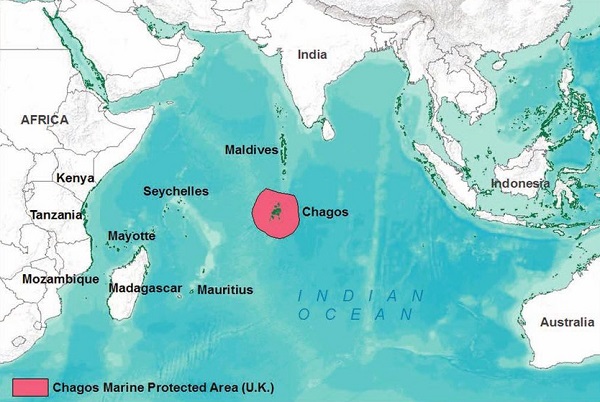 Chagos Archipelago Island History, British acquisition as Indian Ocean British Territory in the Indian Ocean, Mauritius Claim in ICJ
The Chagos Islands were purchased by the British Government from Seychelles in 1966 and as all landlords purchasing a property have the rights to allow their sitting tenants to stay or ask them to leave, however, the request for them to leave was actually an American request and condition of their lease and was not a British requirement.
The Chagos People were people which the British took to the islands to populate them from other parts of the Empire and to try and build an economy.
Chagos Islands are a group of seven atolls comprising more than 60 individual tropical islands in the Indian Ocean about 500 kilometers (310 mi) south of the Maldives archipelago.
The Mauritian government stated they would take the population and offer them work in plantations and was paid by the British government to employ the non-indigenous population.
The Chagos were home to the Chagossians, a Bourbonnais Creole-speaking people. It is Officially part of British Indian Ocean Territory.
The Chagos group is a combination of different coralline rock structures topping a submarine ridge running southwards across the center of the Indian Ocean, formed by volcanoes above the Réunion hotspot.
The largest individual islands are Diego Garcia (32.5 km2, Great Chagos Bank, 3.1 km2, Peros Banhos, 1.40 km2, Eastern Egmont Egmont Islands, 2.17 km2, Peros Banhos, 1.32 km2 and Ile Boddam Salomon Islands, 1.27 km2.