Prime Minister Narendra Modi laid foundation stone of Vanijya Bhawan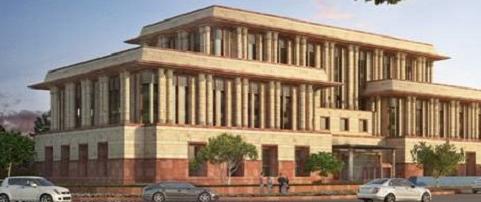 Prime Minister Narendra Modi laid foundation stone of Vanijya Bhawan- Details
Prime Minister Narendra Modi laid the foundation stone of Vanijya Bhawan, a new office complex in New Delhi for the Department of Commerce. Vnijya Bhawan will help in ease of doing business by bringing all Departments of Commerce under one roof.
The Vinijya Bhawan complex is located near India Gate and is being built on a plot of 4.33 acres, belonging to erstwhile Directorate General of Supplies and Disposals (DGS& D).
The Vinijya Bhawan will be built at an estimated cost of Rs 226 crore and is expected to be completed by December 2019.
The Vinijya Bhawan's building will be a modern, eco-friendly structure. It will be completely paperless office with modern facilities such as smart access control, video conferencing and completely networked systems.
Background
The Department of Commerce is currently housed in Udyog Bhawan, which also houses a large number of other Government of India departments, leading to a constraint of space.
Some of its attached and subordinate offices like the Directorate General of Trade Remedies (DGTR) and Government e-Marketplace (GeM) operate from rented premises.