Updated By: LatestGKGS Desk
Latest Daily Current Affairs 12nd July 2018 GK GS Bulletin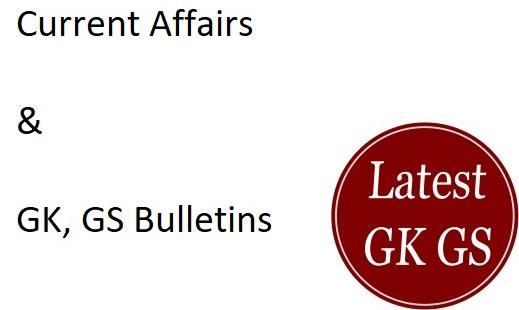 Latest Daily Current Affairs GK GS Bulletins
1. UNSC adopted 'Resolution 2427' for safeguarding armed conflict children
2. Gujarat & South Korea Trade-Investment Promotion Agency Signed MoU
3. India Ranked 57th on Global Innovation Index Details, Rankings
4. FSSAI launched Eat Right Tool Kit & to Nutritious Food at Workplace campaign
5. Trivendra Singh Rawat inaugurated the country's first Drone Application Research Laboratory and Cyber Security centre in Dehradun.
6. Rajasthan Government and Microsoft have signed a Memorandum of Understanding to provide digital training to 9,500 college students of a state.
7. Famous folk artist Dr. Mahendra Bhanawat will be honored with the Kanhaiyalal Sethia Award for his outstanding contribution in the field of literature, culture and art.
8. Union Cabinet gave its approval to rename the Agartala Airport in Tripura as 'Maharaja Bir Bikram Manikya Kishore Airport, Agartala.
9. Odisha government has ordered a ban on the use of plastic bags, polythene and single-use plastic in the State from Gandhi Jayanti in October.
10. Shashi Bala Singh has taken charge as the Director of National Institute of Pharmaceutical Education and Research (NIPER), Hyderabad.
11. Fssai launched Eat Right Movement to encourage safe and healthy food
12. India-South Korea Technology Exchange Centre inaugurated in New Delhi
13. Venkaiah Naidu becomes first Chairman of Rajya Sabha to sign an MOU, Rwanda
14. Union Home Minister, Rajnath Singh institutes five new Police Medals
15. Dr. Harsh Vardhan Inaugurates 16th Workshop On Greenhouse Gas Inventories in Asia