Global Liveability Index 2018: Vienna named as world's most liveable city: Rankings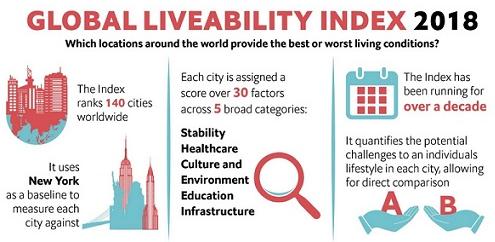 Global Liveability Index 2018: Vienna named as world's most liveable city: Details, Rankings
Austrian capital Vienna was ranked as world's most liveable city among 140 major cities in 2018 Global Liveability Index released by Economist Intelligence Unit (EIU). It is the first ever time that any European city has topped rankings of EIU annual survey.
Ten most Liveable Cities
Vienna, Austria (Rank: 1st, with total score of 99.1), Melbourne, Australia (Rank 2nd, 98.4); Osaka, Japan (Rank 3rd, 97.7); Calgary, Canada (Rank 4th, 97.5); Sydney, Australia (Rank 5th, 97.4); Vancouver, Canada (Rank 6th, 97.3); Toronto, Canada (Rank 7th, 97.2); Tokyo, Japan (Rank 8th, 97.2); Copenhagen, Denmark (Rank 9th, 96.8); and Adelaide, Australia (Rank 10th, 96.6).
Three Canadian cities made it into top 10 namely Vancouver, Toronto, and Calgary.
No Indian cities were ranked in the top ten or bottom ten of this edition of the GL Index. New Delhi had figured at 112th and Mumbai 117th position in the list. South Asian cities were also ranked low in
Ten Least Liveable Cities
Dakar, Senegal (131st); Algiers, Algeria (132nd); Douala, Cameroon (133rd); Tripoli, Libya (134th); Harare, Zimbabwe (135th); Port Moresby, Papua New Guinea (136th); Karachi, Pakistan (137th); Lagos, Nigeria (138th); Dhaka, Bangladesh (139th) and Damascus, Syria (140th).
About Global Liveability Index
Global Liveability Index released by EIU compares world cities with each other in terms of security, affordability, education, healthcare, its urban lifestyle, and infrastructure. It scores 140 major cities of the world on a scale ranging from 0 (least liveable city) to 100 (most liveable city) based on these mentioned parameters.