Updated By: LatestGKGS Desk
ISRO scientist S Nambi Narayanan Profile, Career, Achievements, Controversy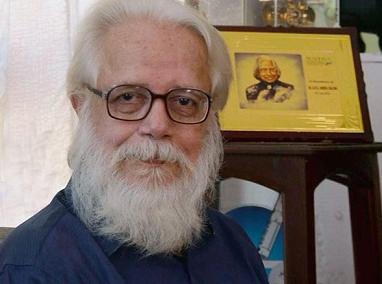 ISRO scientist S Nambi Narayanan Profile, Career, Achievements, Controversy
S. Nambi Narayanan (aged 76 years) is a retired Indian scientist. As a senior official at the Indian Space Research Organization (ISRO), he was in charge of the cryogenics division.
S. Nambi Narayanan was taken into custody by police in 1994 in a false espionage case. The charges that were slapped on him by the police, were dismissed in 1996 by the CBI. He was declared not guilty by the Supreme Court in 1998 and also the court had announced Rs 1 lakh compensation.
Achievements
S. Nambi Narayanan in the early 1970s had introduced the liquid fuel rocket technology. He was also invited praise from then ISRO chairman Satish Dhawan and his successor UR Rao for this invention.
S. Nambi Narayanan along with his team, with French assistance, developed the Vikas engine. The Vikas engine is used by the ISRO to launch its rockets including the Polar Satellite Launch Vehicle (PSLV) that took Chandrayaan-1 to the moon in 2008. It is also used as the second and the four strap-on stages of Geo-Synchronous Satellite Launch Vehicle (GSLV).
ISRO Spy Case (Controversy)
S. Nambi Narayanan in 1994, he was falsely charged with espionage and arrested. The charges against him were dismissed by the CBI in 1996, and the Supreme Court declared him not guilty in 1998.
In 2018, the Supreme Court through the bench of Dipak Misra awarded a compensation of 50 lakhs to Nambi Narayan,
Autobiography
S. Nambi Narayanan autobiography named 'Ormakalude Bhramanapatham' was released on 23 October 2017. the book deals with the ISRO spy case in which Narayanan, along with five others, were subjected to a repeated third degree and sustained interrogation by the Kerala Police and Intelligence Bureau in the early 1990s.