Updated By: LatestGKGS Desk
Isro spy case: SC orders Rs 50 lakh compensation to scientist S Nambi Narayanan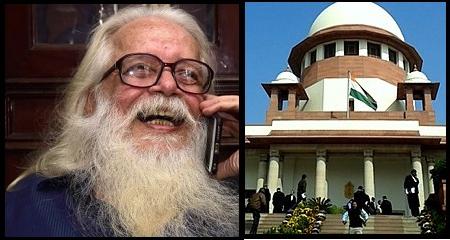 Isro spy case: SC orders Rs 50 lakh compensation to scientist S Nambi Narayanan: Details, Highlights
The Supreme Court of India (SC) ordered compensation of Rs 50 lakh to the ISRO scientist, S. Nambi Narayanan(76 years) who was suffering from harassment in
ISRO spy case.
The Supreme Court on 14th September 2018, stated that in this 'ISRO Spy Case' the scientist S. Nambi Narayanan was arrested indecently 24 years ago (1994) by the Kerala Police also, he was harassed and mentally tortured by Kerala police.
The Supreme Court had constituted a committee headed by retired SC judge D K Jain to inquire into the role of Kerala police officials in the arrest of acquitted scientist S Nambi Narayanan.
The Supreme Court bench comprised of Judges Justice AM Khanvilkar and DC Chandrachud's Bench headed by Chief Justice Deepak Mishra provided a great relief to 76-year-old Nambi Narayanan.
ISRO retired scientist S Nambi Narayanan claimed that he was framed in a false case of espionage. By arresting him the police had claimed that he had given some secret documents to Pakistan.
After the investigation, the CBI had said that these charges are false. Although the re-order was ordered again, in 1998 the Supreme Court canceled the case.

After this S Nambi Narayanan reached the National Human Rights Commission, from where a compensation of Rs 10 lakh was ordered. Although he was not satisfied and reached the Supreme Court.
Note: The other suspects in the ISRO spy case included ISRO scientist D. Sasikumaran, Russian space agency official K. Chandrasekhar, and ISRO's contractor S.K. Sharma and two Maldivian women.