Updated By: LatestGKGS Desk
Donald Trump signs order, imposing sanctions on foreign interference in US elections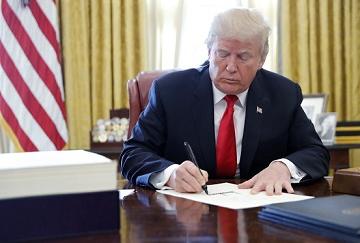 Donald Trump signs a new executive order for imposing sanctions on foreign interference in the US elections: Details, Features, Aim, Significance
United States President, Donald Trump, signed a new executive order in September 2018, imposing sanctions on a foreign individual or any country found trying to interfere in the US elections.
The move is initiated with an aim to strengthen efforts to prevent foreign manipulation of the US political process.
Features
The order calls for sanctions against any entity that authorises, directs or sponsors meddling operations in the American elections.

The sanctions not only cover the interference with the election or campaign infrastructure but also the distribution of propaganda and disinformation. It will work to stem disinformation campaigns or any attempt to manipulate the outcome of ballots.

It instructs the US intelligence community to monitor and report on attempts to disrupt election infrastructure as well as propaganda. It also imposes bans or restrictions on those suspected of carrying out the interference.
Significance
The move comes less than two months before the 2018 midterm elections and just weeks after Dan Coats, Trump's director of national intelligence, warned of a "pervasive messaging campaign by Russia to try to weaken and divide the United States."
Dan Coats proclaimed that the US is not currently seeing the intensity of Russian intervention that was experienced in 2016 but was worried about the cyber activities of China, North, Korea and Iran.
Dan Coats also added the US have observed signs of meddling not just from Russia, but from China, from Iran and even North Korea.
Latest Donald Trump Updates