First-ever Global India Tourism Mart held in Vigyan Bhawan, New Delhi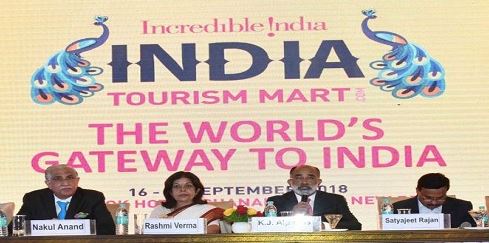 First-ever Global India Tourism Mart held in Vigyan Bhawan, New Delhi: Details, Objective, Outcomes, Highlights
The 'first ever' India Tourism Mart (ITM 2018) was inaugurated by Union Minister for Railways and Coal, Shri Piyush Goyal in New Delhi.
It was inaugurated in presence of Union Tourism Minister, Shri K J Alphons and Tourism Minister of Morocco, Mr. Mohamed Sajid.
The India Tourism Mart (ITM 2018) was a 3-day event that was scheduled from 16th September 2018 to 18 September 2018,
The India Tourism Mart (ITM 2018) was organized with an aim to create an annual Global Tourism Mart for India.
The ITM 2018 was organized by the Ministry of Tourism in partnership with the Federation of Associations in Indian Tourism and Hospitality (FAITH) and State /UT Governments. It has been coordinated by India Convention Promotion Board (ICPB).
Earlier, ITM was announced to be an annual event hereafter in line with other International Tourism Marts and will be held in the month of September.
The ITM-2018 saw the participation of around 225 participants North America, West Europe, East Asia, Latin America, CIS countries etc.
Outcomes
Tourism Ministry reached the ambitious goal of US$100 billion FTA receipts/year within 5 years.
Morocco has relaxed new e-visa regime which is now open to 166 countries.
The FAITH and State Governments also offered a pre and post event FAM trips (Familiarization trips) for the buyer delegates from overseas.
FAITH
FAITH is the apex organization of all the important trade and hospitality associations of the country with all the 10 major Tourist organizations like FHRAI, HAI, IATO.
Headquarters: New Delhi.