Japanese businessman Yusaku Maezawa to become the first private moon tourist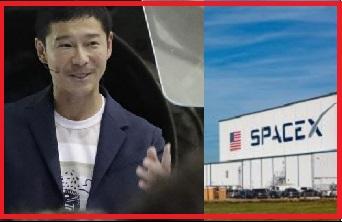 Japanese businessman Yusaku Maezawa to become the first private moon tourist: Details, Highlights
Yusaku Maezawa, a Japanese businessman, will be the first private moon tourist, to fly on Big Falcon Rocket (BFR) of SpaceX around the Moon in 2023.

Yusaku Maezawa is a 42-year-old Japanese billionaire and chief executive of Japan's largest online fashion mall Zozotown.
Yusaku Maezawa will be the first lunar traveler since the last US Apollo mission in 1972. The amount he has paid for the journey has not been revealed.
Yusaku Maezawa will take six to eight artists along with him. The artists will not be charged.
The Big Falcon Rocket (BFR) is in development. It is 118 meters long. It will comprise the first stage with engines and fuel systems, and a second stage with the spacecraft where the passengers will ride.
About SpaceX
Founded: 6th May 2002
Founder: Elon Musk
Headquarters: California, United States
CEO: Elon Musk