Updated By: LatestGKGS Desk
Indra Jatra festival celebrations held in Kathmandu, Nepal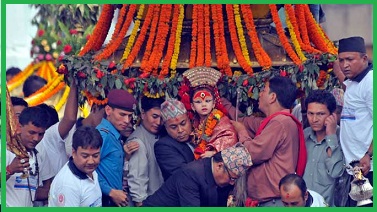 Indra Jatra festival celebrations held in Kathmandu, Nepal: Details, Celebrations, Significance
The famous Indra Jatra festival was held in Kathmandu, Nepal from 21st September to 28th September 2018.
The Indra Jatra festival is an eight-day-long annual festival is observed to worship Indra, the lord of rain and Lord of the good harvest.
The Indra Jatra festival also marks the end of monsoon and beginning of harvest season and festivity.
About Indra Jatra festival
Indra Jatra, also known as Yenya, is the largest street festival in Nepal. It takes place in Nepali Bhadra month (August to September in Solar Calendar) and lasts for eight days.
Indra Jatra festival is celebrated by Nepalese to pray to Indra and Dagini for a good harvest and commemorate the deceased in the past year. On the last day, the flagpole erected at Kathmandu Durbar Square will be burned down, which signifies the end of the Indra Jatra festival.
Background
Indra, the god of rain, once descended to Kathmandu valley to steal a certain flower for his mother, Dagini. Since nobody knew his identity, Indra was imprisoned like a common thief.
The elephant searched through the streets and alleys of Kathmandu but failed to find his master. Indra's mother was so worried and came down to earth. After revealing themselves to the masses, the captor gladly released Indra. In return, Dagini promised to do two things.
One is to take those who have died in the last year back to heaven. The other is to spread enough dew throughout the winter to ensure a good harvest. This is the reason why Indra Jatra is celebrated at Kathmandu, Nepal.