Updated By: LatestGKGS Desk
World Rabies Day observed on 28th September: Theme, Details, Aim, Significance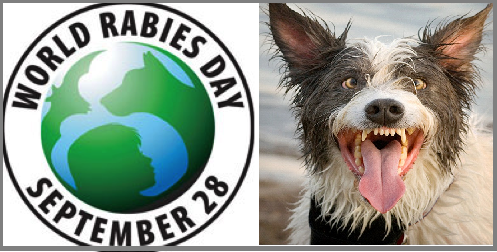 World Rabies Day observed on 28th September: Theme, Details, Aim, Significance, History
World Rabies Day is observed every year on 28 September around the world in order to raise awareness about rabies prevention and to share the progress in fighting this disease.
World Rabies Day also marked the death anniversary of Louis Pasteur, the French chemist, and microbiologist, who developed the first vaccine for rabies.
World Rabies Day-2018 the theme is "Rabies: Share the message. Save a life".
World Rabies Day was launched in 2007, by the Global Alliance for Rabies Control and the Centers for Disease Control and Prevention, Atlanta, USA, with the co-sponsorship of the World Health Organization, the World Organisation for Animal Health and the Pan American Health Organization.
Some Facts on Rabies
Rabies is a viral disease that is nearly always transmitted by an infected animal bite.
Anyone who receives a bite in a geographical area where rabies occurs should seek treatment at once.
For treatment to be successful, it must be given before symptoms appear.
Symptoms include neurological problems and a fear of light and water.
Following the vaccination requirements for pets helps prevent and control rabies.