World Post Day Celebrations on 9th October 2018: Details, Aim, History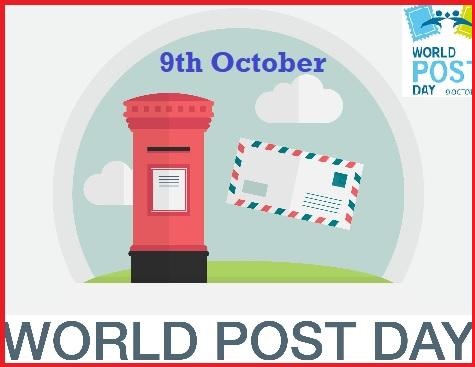 World Post Day Celebrations on 9th October 2018: Details, Aim, Celebrations, History
The World Post Day was celebrated on 9th October 2018 around the world to aware people about the significance of postal communication and services.
The World Post Day marks the anniversary of the Universal Postal Union's (UPU) establishment which began in 1874 in Berne, Switzerland.
The UPU was aimed to create and maintain a structure for the free flow of international mail around the world. The UPU was the start of the global communications revolution, introducing the ability to write to others all over the world.

The World Post Day was first started in 1969. Since then, countries all over the world take part in celebrations to highlight the importance of the postal service.
On World Post Day, the Universal Postal Union (UPU) in cooperation with UNESCO organizes an international letter-writing competition for young people for which they are awarded. A new Postal Stamp is also released to commemorate postal service leaders.
Apart, may functions & events such as Postal Stamps Exhibition, Debates regarding international postal services held.
In India, National Post Day is celebrated on 10th October annually. Indian postal celebration is an extension of World Post Day