Note Ban: Banks to open on Sunday 20 Nov old currency exchange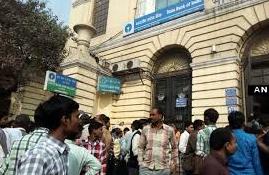 Banks to be open on Sunday to provide services to senior citizens and own customers only declared by Indian Bank Association
Indian Banks of Association has declared that banks to be open on Sunday 20 Nov but banks would deposit and exchange notes only to their own customers.
Senior citizens are also exempted as they can go to any branch to exchange their notes.
IBA's decision is only for this Sunday and rest of the days from Monday bank would provide services to all its customers.
Indelible ink system to reduce crowd from the banks
Indelible ink system was introduced on Wednesday which substantially showcased a reduction in the queues up to 40%.
Government of India has also warned those who were depositing other's money cash in their respective bank accounts would be prosecuted under Income Tax act.
Finance Ministry also declared that person depositing the amount does not find to his own amount would be charged 200% penalty.