Updated By: LatestGKGS Desk
Cabinet approved forming Appellate Tribunal-Prohibition of Benami Property Act 1988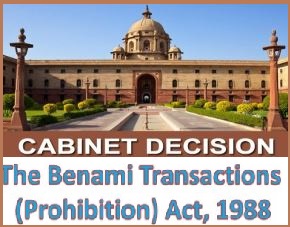 Union Cabinet approved the formation of Appellate Tribunal under Prohibition of Benami Property Transactions Act, 1988: Details, Highlights
The Union Cabinet has approved the appointment of Adjudicating Authority and establishment of Appellate Tribunal under Prohibition of Benami Property Transactions Act(PBPT), 1988.
The Adjudicating Authority and Appellate Tribunal shall sit in the National Capital Territory of Delhi (NCTD).
This initiative will result in effective and better administration of cases referred to the Adjudicating Authority and speedy disposal of appeals filed against the order of the Adjudicating Authority before the Appellate Tribunal.
The appointment of the Adjudicating Authority would provide first stage review of administrative action under the PBPT Act and the establishment of the proposed Appellate Tribunal would provide an appellate mechanism for the order passed by the Adjudicating Authority under the PBPT Act.
Background
The Benami Transactions (Prohibition) Amendment Act, 2016, designed to curb black money and passed by parliament in August 2016, came into effect.
The benami (without a name) transaction refers to property purchased by a person in the name of some other person. The person on whose name the property has been purchased is called the benamdar and the property so purchased is called the benami property. The person who finances the deal is the real owner.
Latest Union Cabinet Updates