Updated By: LatestGKGS Desk
National Legal Services Day Celebrations On 9 November: 2018 Theme, Details, History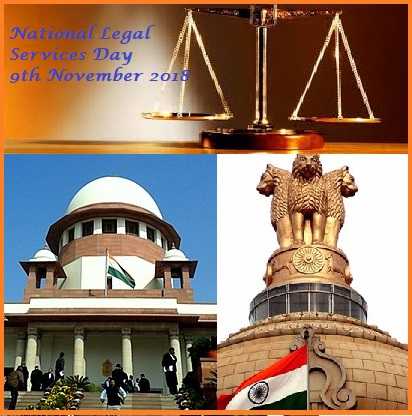 National Legal Services Day Celebrations On 9 November: 2018 Theme, Details, Aim, Significance, History
The National Legal Services Day (NLSD) is celebrated every year on 9th November across India to spread awareness for ensuring reasonable fair and justice procedure for all citizens.
The National Legal Services Day (NLSD) main aim to celebrate the day is to devise free of charge, proficient and legal services to the people belonging to weaker sections of society.
On this National Legal Services Day, Lok Adalats are organised to encourage the availability of the legal system operations to people on the equality basis.
Many legal literacy camps and functions are also organised all over India to increase awareness of free legal aid towards every weak citizen of the country. It aims to make sure the availability of free services to the weaker section people as well as making them conscious about their rights.
The Government of India also declared its commitment of facilitating 'Sabka Nyay' or 'Justice' for all which is an intrinsic part its Sabka Saath, Sabka Vikas agenda.
The National Legal Services Day (NLSD) was first started by Supreme Court of India in 1995 to provide help and support to poor and weaker sections of the society.
In India, the Supreme Court is the apex judicial forum and final court of appeal under the Constitution of India, the highest constitutional court, with the power of judicial review.
The Supreme Court comprised of the Chief Justice of India and a maximum of 30 other judges, it has extensive powers in the form of original, appellate and advisory jurisdictions.
Established: 1st October 1937
Location: New Delhi
Chief Justice of India: CJI Justice Ranjan Gogoi (2018)
Motto: Yato Dharmastato Jayaḥ--Where there is truth (dharma), there is a victory (justice)