Updated By: LatestGKGS Desk
GK Questions 4th May 2019 General Knowledge, Current Affairs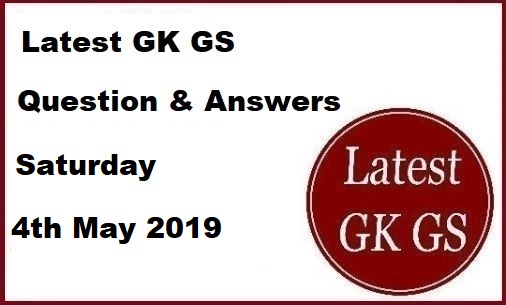 Daily GK Questions 4rd May 2019 General Knowledge, Current Affairs
1. When is the International Firefighters' Day celebrated every year?
Ans:- 4th May
2. Which cyclone-hit Odisha and West Bengal on 3rd May 2019?
Ans:- Cyclone Fani

3. Which satellite is ISRO planning to launch launching in May 2019?
Ans:- Radar Imaging Satellite 'RISAT 2BR1'

4. In which tournament did Bajrang Punia clinch gold medal on 2nd May 2019?
Ans:- Ali Aliyev Wrestling Tournament

5. What is the name of Ex ISRO Chairman who was awarded France's Highest Civilian Honour?
Ans:- A S Kiran Kumar
6. Government of India has mandated which color number plates on all-electric vehicles in India?
Ans:- Green Number plates

7. Which nation emerged as the 3rd largest source of FDI in India?
Ans:- Netherlands
8. When is the National Space Day 2019 was observed?
Ans:- 3rd May 2019 (First Friday)

9. What is the ranking of India in ICC T20I rankings 2019?
Ans:- 5th Rank

10. Who inked MoU to launch the Centre of Excellence for Waste to Wealth Technologies?
Ans:- India's Principal Scientific Adviser (PSA) and IIT-Delhi