Updated By: LatestGKGS Desk
World Philosophy Day Celebrations On 15th November 2018 Theme, Details, Aim, History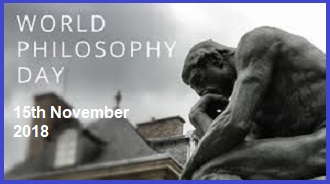 World Philosophy Day Celebrations On 15th November 2018 Theme, Details, Aim, History
World Philosophy Day is celebrated across the world on the third Thursday of November every year with an aim for people to share thoughts, openly explore and discuss new ideas and inspire public debate or discussion on society's challenges.
This year World Philosophy Day-2018 is celebrated on 15th November 2018.

World Philosophy Day is celebrated to renew the national, sub-regional, regional and international commitment to the philosophy and to foster philosophical analysis, research, and studies on major contemporary issues, so as to respond more effectively to the challenges that are confronting humanity today.

World Philosophy Day also aims to raise public awareness of the importance of philosophy and its critical use in life. The Day encourages academic exchange and highlights the contribution of philosophical knowledge in addressing global issues.
World Philosophy Day was first declared in the year 2005, by the UNESCO (UN Educational, Scientific and Cultural Organization) General Conference that the day will be celebrated every third Thursday of November with an aim to underline the importance of philosophy teaching for future generations.
In India, Ashvaghosha a Buddhist philosopher, dramatist, poet, and orator is called as the father of Indian Philosophy.
Latest World Philosophy Day Updates