Islamic Republic Mauritania celebrate National Day on 28 November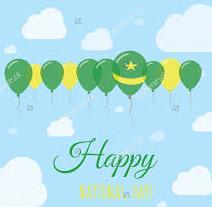 National Day of Mauritania 28th November 2016, President Pranab Mukherjee conveyed greetings
The National Day of Mauritania is marked on 28th November 2016 which is officially known as Islamic Republic Mauritania.
Islamic Republic Mauritania is the eleventh largest country of Africa which got independence from France on this day in the year 1960.
President of India MR. Pranab Mukherjee conveys his greeting on this National Day for strengthening nations
The President stated that on behalf of the country, it gives him pleasure to convey heartiest greetings to the Government and the people of Islamic Republic Mauritania on the occasion of National Day.
President further conveyed that he is confident that the ties will further enhance for the mutual benefit of both the countries.
Shri Pranab Mukherjee urged the country to accept his good wishes for the prosperity of the country.