UN celebrate Diwali at UN headquarter for the first time 2016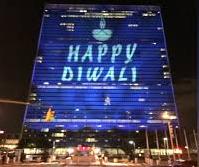 United Nations celebrated Diwali for the first time, declared as optional holiday or no-meeting day
United Nations this year celebrated Diwali for the first time.
United Nations celebrated Diwali by projecting Happy Diwali as the background of the building of headquarter.
The people all around clicked photographs of the building and being themselves clicked against the illuminated UN headquarter background.
At United Nations headquarter it is option holiday on Diwali
The United Nations Secretariat building will be lit up from 29-31 October.
UN also adopted a resolution in December, 2014 at UN General Assembly that recognised the significance of Diwali.
The resolution was also called on UN bodies that no meetings will be held in Diwali stating no-meeting day.
From now onwards, Diwali is declared as optional holiday for the United Nations.
In June 2016, the yoga postures were projected at the background of UN headquarter, celebrating Yoga Day.