Delhi Government Launches 'Mukhyamantri Teerth Yatra Yojana' For Senior Citizens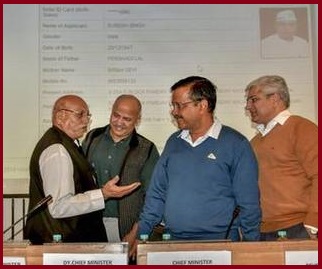 Delhi Government Launches 'Mukhyamantri Teerth Yatra Yojana' Free Pilgrimage Scheme For Senior Citizens: Details, Features, Aim, Highlights
Delhi Government led by Chief Minister, Arvind Kejriwal on 5th December 2018 has launched a free pilgrimage scheme named as 'Mukhyamantri Teerth Yatra Yojna' for senior citizens of the state.
Delhi's Mukhyamantri Teerth Yatra Yojna provides free travel packages for senior citizens from Delhi to five religious circuits. 1,100 senior citizens from every constituency of Delhi will be able to avail this facility at one go.

Mukhyamantri Teerth Yatra Yojn free pilgrimage scheme is meant only for Delhi resident above 60 years, who will be eligible to take free pilgrimage along with his or her spouse.
Under this scheme, 1100 senior citizens from each Assembly Constituency of Delhi would undertake free pilgrimage every year, the expenses for which will be borne by the government.
Under the scheme, a total of 77000 pilgrims will be able to avail this facility every year. It will be implemented at a cost of approx Rs 7000 per pilgrim. The pilgrimage duration will be of 3 days and 2 nights.
The applications will be received online and selection of pilgrims will be done by lucky draw and respective area MLAs will certify whether the intended beneficiaries belong to Delhi or not.
All application forms will be available online and shall be filed online either through Office of Divisional Commissioner or office of respective MLA or office of Tirth Yatra Committee.
This Mukhyamantri Teerth Yatra Yojna scheme was launched with an aim that every elderly person's desire to undertake a pilgrimage in his life gets fulfilled.