Updated By: LatestGKGS Desk
Indian Coast Guard launches 'Operation Oliver' for safeguarding Turtles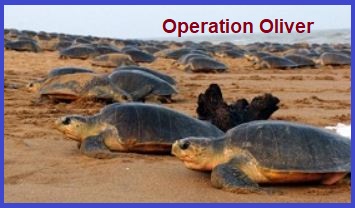 Indian Coast Guard launches 'Operation Oliver' for safeguarding Turtles: Details, Aim Highlights
The Indian Coast Guard on 15th December 2018 has launched 'Operation Oliver' for safeguarding Olive Ridley Turtles.
It was a part of its annual mission to ensure the safe mid-sea sojourn of breeding Olive Ridley sea turtles in Gahirmatha marine sanctuary area, Devi river mouth, and Rushikulya beach of Odisha.
The turtle conservation programme is executed in a joint coordination with the forest department of Odisha to keep watch and vigil on illegal fishing along the turtle concentration zone.
As a part of the operation, a fleet of ships and a service aircraft has been pressed into service besides the coast guard has also organised interactive sessions with fishermen communities to sensitize them on the legal embargo on fishing during ridleys' nesting season.
The Coast Guard patrol in turtle congregation sites would remain in force till the marine turtles finish laying eggs on nesting beaches.
About Olive Ridley Turtles
Scientific name: Lepidochelys olivacea (Pacific ridley sea turtle)
Found: Warm and tropical waters, primarily in the Pacific and Indian Oceans
Population: The global population of annual nesting females of these turtles reduced to 852,550 by 2008.
Largest breeding ground for these turtles: The Gahirmatha Beach in Kendrapara district of Odisha (India), now a part of the Bhitarkanika Wildlife Sanctuary.
Olive Ridley Turtle is considered vulnerable because of their few remaining nesting sites in the world.