Updated By: LatestGKGS Desk
Sanjaya Baru's Book & Film 'The Accidental Prime Minister' on Ex-PM Manmohan Singh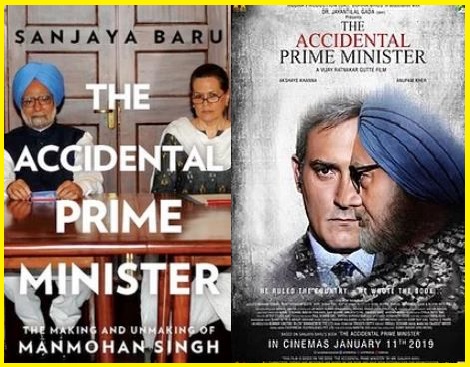 Sanjaya Baru's Book & Film 'The Accidental Prime Minister' on Ex-Prime Minister Manmohan Singh Details, Features, Controversy
Sanjaya Baru is a political commentator and economic policy analyst. He served as an advisor to Ex-Prime Minister Manmohan Singh from 2004 to 2008. He last retired as Secretary General of the Federation of Indian Chambers of Commerce and Industry (FICCI) in April 2018.
Sanjaya Baru authored a book named 'The Accidental Prime Minister: The Making and Unmaking of Manmohan Singh' a Memoir of 320 pages, which was published by Penguin India on 20th April 2014.
In this book, Sanjaya Baru shared his experience working as a media adviser to Ex-PM Manmohan Singh. He has written in the book that there was no complete control in the hands of Dr. Manmohan Singh as Prime Minister.
Sanjaya Baru has written in the book that Sonia Gandhi 's National Advisory Council used to work as a super cabinet and the social welfare schemes were given credit to Dr.Manmohan Singh and not only to the Advisory Council.

A Bollywood film named 'The Accidental Prime Minister' is based on Baru's book is going to release on 11 January 2019. The film stares Ankam Kher playing the role of Ex-PM Dr. Manmohan Singh and Akshay Khanna in Sanjay Baru's role.
The film is directed by Vijay Ratnakar Gutte and produced by Production houses Rudra Productions (UK), Bohra Bros, and Pen India Limited.
Controversy: Both the book and film trailer when released received huge controversy and Accusation from Congress party in India.