Updated By: LatestGKGS Desk
1st December: National Romania Day Great Union Day celebration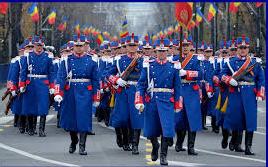 Great Union Day celebrate in Romania on its National Day on signing of Great Union
Romania's National Day is celebrated as Great Union Day in Romania which is one of the most important moment in country's history.
This day marks as the historic event in history when the provinces of Banat, Transylvania, Bessarabia and Bukovina came together under the rule of Romanian Kingdom.
Several events takes place in different parts of the country where Bucharest will host the biggest military parade in the country.
Several events, concerts, military parades are organised in Romania including Bucharest, Alba Iulia, Timisoara etc
The Great Union was signed at Alba Iulia where different concerts, events are organised to celebrate this day.
A large military parade is organised at the Capital of Romania in Bucharest where 3,000 soldiers and specialists of Ministry of Defence to join.
Latest National Day Updates