Google Celebrates 70th Indian Republic Day 2019 With A Doodle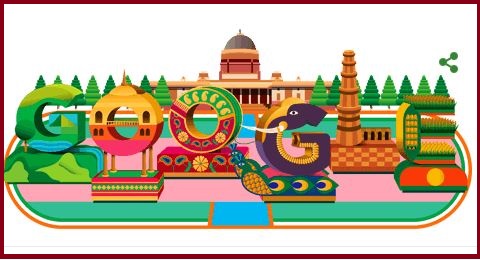 Google Celebrates 70th Indian Republic Day 2019 With A Doodle: Details, Key Highlights
Search engine giant Google celebrates Indian 70th Republic Day 2019 showcasing Rashtrapati Bhavan in the background with every alphabet of the word 'Google'.
In the Image, the alphabet 'G' is representing India's rivers and biodiversity;
'O' denotes a vast range of monuments showcasing India's rich cultural heritage;
The second 'O' represented traditional Indian art designs;
The second 'G' represented India's national bird peacock and Elephant;
The letter 'L' represented the Qutub Minar while the last alphabet 'E' represented what looked like marching contingents.
India is celebrating Republic Dhonoringing the date on which the Constitution of India came into effect on 26 January 1950On 26 January 1950 , the new constitution replaced the Government of India Act (1935)
On this 70th Republic Day 2019, India's chief guest for the parade is South African president Cyril Ramaphosa"