Updated By: LatestGKGS Desk
Dr. G C Anupama appointed as new President of Astronomical Society of India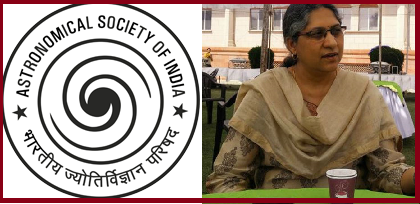 Dr. G C Anupama appointed as new President of Astronomical Society of India: Details, Profile Career, Highlights
Dr. G C Anupama has been elected president of the Astronomical Society of India (ASI). Dr G C Anupama was elected to the post in the ASI Executive Council elections for triennium 2019-22. She has become the first woman to head the prime association of professional astronomers in the country
Dr. G C Anupama at present is the Dean and Senior Professor at the Bengaluru based Indian Institute of Astrophysics (IIA). She did her Ph.D. from IIA Bangalore and her post-doctoral work at the Inter-University Centre for Astronomy and Astrophysics (IUCAA) at Pune.
Dr. G C Anupama has been serving as a faculty at IIA Bangalore since 1994. She is also the recipient of the Sir C V Raman award for young scientists in 2000.
Dr. G C Anupama was also the Project in Charge for the design and establishment of the Himalayan Telescope at Leh in Ladakh and she is also part of the Indian core team which is part of the international team engaged in establishing the thirty meter telescope (TMT) at cost of over USD 1 billion in the USA (Hawaii).
About Astronomical Society of India
Astronomical Society of India is the prime association of professional astronomers in India and has close to 1,000 members.
Astronomical Society of India objectives includes the promotion of Astronomy and related branches of science in India.
Astronomical Society of India organizes scientific meetings and supports the popularisation of Astronomy and other similar activities.
Latest Astronomical Society Of India Updates