Updated By: LatestGKGS Desk
India & South Korea Signed 7 Key Agreements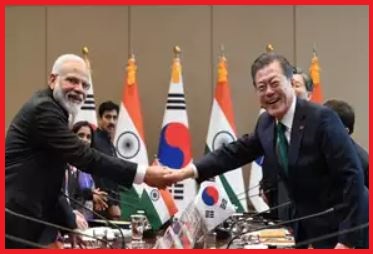 India & South Korea Signed 7 Key Agreements: Details, Aim, Significance, Highlights
Prime Minister Narendra Modi visited South Korea where he signed seven key agreements to boost up the cooperation.
This was the second visit of Prime Minister Modi to the Republic of Korea since 2015 and it was a second summit meeting with the South Korean president.
7 Agreements Includes
1. MoU was signed between the Korean National Police Agency and the Ministry of Home Affairs to enhance cooperation between the law enforcement agencies of the two countries and combat trans-border and international crimes.
2. A joint agreement was signed for releasing a joint stamp, commemorating Princess Suriratna (Queen Hur Hwang-ok), a legendary Princess of Ayodhya, who went to Korea in AD 48 and married King Kim-Suro.
3. An agreement was signed to continue operations of Korea Plus organisation that facilitates investments by Korean companies in India. Korea Plus operationalised in June 2016 comprises representatives from the Ministry of Industry, Trade and Energy of South Korea, Korea Trade-Investment and Promotion Agency (KOTRA) and Invest India.
4. An agreement to promote collaboration among start-ups and set up a Korea Start-up Centre (KSC) in India to commercialise ideas, technologies and designs of start-up companies.
5. An agreement between the Korean Broadcasting System (KBS) and Prasar Bharti to facilitate the broadcast of DD India Channel in South Korea and KBS World Channel in India.
6. An agreement on fisheries and aquaculture for strengthening cooperation by encouraging exchanges, organising training workshops and development and utilisation of marine science and technology in the fields of fisheries and aquaculture.
7. An agreement between the National Highways Authority of India and Korea Expressway Corporation to promote bilateral cooperation in road and transport infrastructure development projects of India, and facilitate technical and institutional knowledge exchange in the field of road and transport.