Updated By: LatestGKGS Desk
1st March: Zero Discrimination Day 2019 Theme, Details, Aim, Significance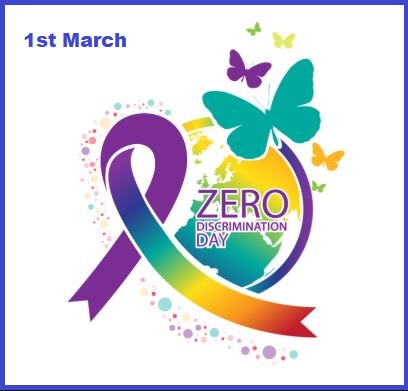 1st March: Zero Discrimination Day 2019 Theme, Details, Aim, Significance, History
Zero Discrimination Day is observed on 1st March every year around the world to promote diversity and recognizes that everyone counts.
Zero Discrimination Day was first was launched by UNAIDS on 27th February 2014 and celebrated by the United Nations (UN) on 1st March 2014.
Zero Discrimination Day is marked with various activities to celebrate everyone's right to live a full life with dignity regardless of age, gender, sexuality, nationality, ethnicity, skin color, height, weight, profession, education, and beliefs.
Zero Discrimination Day 2019 theme is 'Act to change laws that Discriminate'.
Zero Discrimination Day aims to tell people that nobody should be differentiated based on their HIV status, age, sex, gender identity, race, ethnicity, language, geographical location or migrant status.
Latest United Nations Updates