Updated By: LatestGKGS Desk
World logic Day 14th January About, Details, History, Significant, Background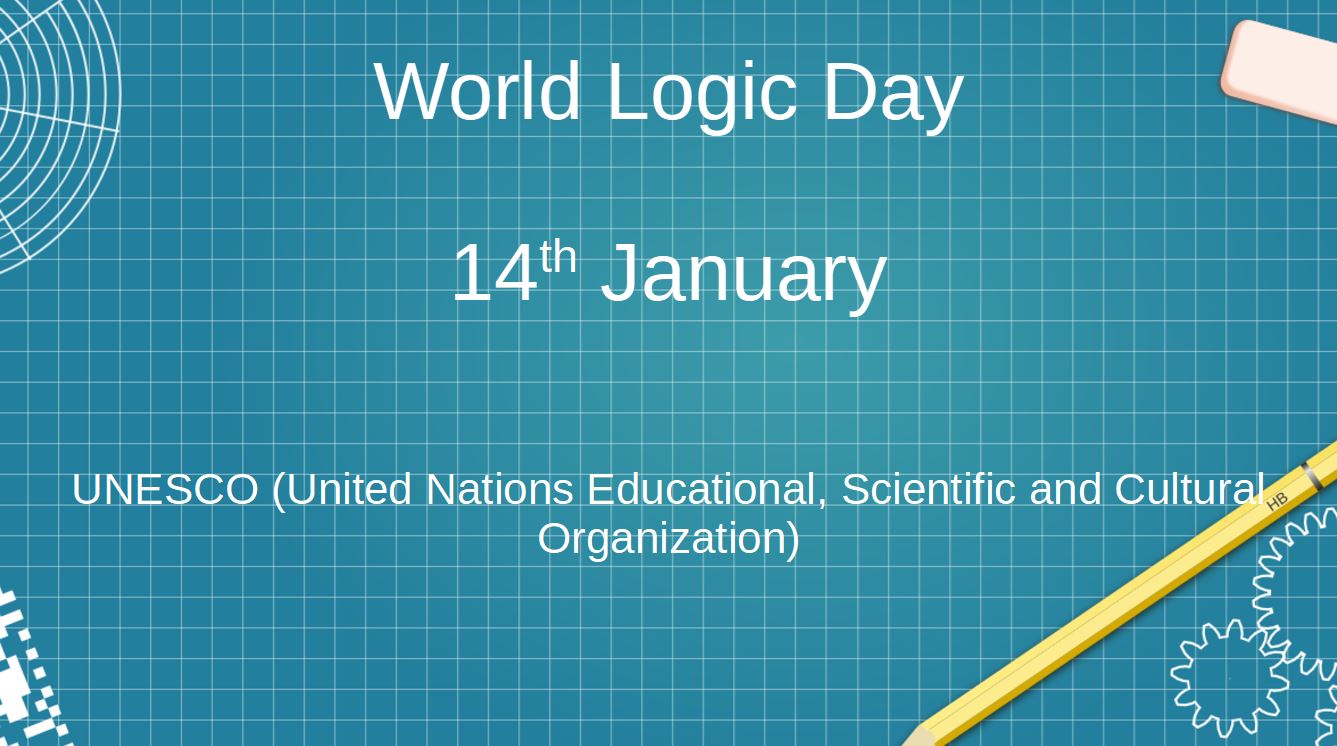 World Logic Day 14th January : About, Details, History, Significant, Background
World logic Day is celebrated on 14th January every year.On this day UN point out the ability of thinking.
One of the most distinguishing characteristics of humanity is the ability to think. The concept of humanity is related with concepts such as consciousness, knowledge, and reason in various civilizations. Human beings are defined as "rational" or "logical animals" in the classic western paradigm. Many cultures have studied logic as an examination into the foundations of thinking throughout history, and logic has played an important part in the development of philosophy and science since its earliest formulations.
Despite its indisputable importance in the advancement of information, sciences, and technology, logic is underappreciated by the general people. The International Council for Philosophy and Human Sciences (CIPSH) and UNESCO have declared World Logic Day to bring the intellectual history, conceptual significance, and practical consequences of logic to the attention of interdisciplinary science groups and the general public.
A dynamic and global annual celebration of World Logic Day aims at fostering international cooperation, promoting the development of logic, in both research and teaching, supporting the activities of associations, universities and other institutions involved with logic, and enhancing public understanding of logic and its implications for science, technology and innovation. Furthermore, the celebration of World Logic Day can also contribute to the promotion of a culture of peace, dialogue and mutual understanding, based on the advancement of education and science.
History of world logic day
The first World Logic Day was held on January 14, 2019 in around 60 sites around the globe. Jean-Yves Béziau, Editor-in-Chief of Logica Universalis and President of the Brazilian Academy of Philosophy, presented a project to the Brazilian Ambassador to UNESCO, Maria Edileuza Fontenele Reis, in April 2019 in Paris, based on a detailed report, in order for this day to be designated as a UNESCO international day. After receiving clearance from the Brazilian government, the Ambassador presented the initiative to the UNESCO Executive Council, where it was accepted on October 17, 2019, with support from 17 additional nations. On the basis of an Executive Council resolution, the 40th session of the UNESCO General Conference in Paris, November 12-27, 2019, was formally declared World Logic Day.