Updated By: LatestGKGS Desk
No Smoking Day Celebrations On 13th March 2019: Details, Aim, Significance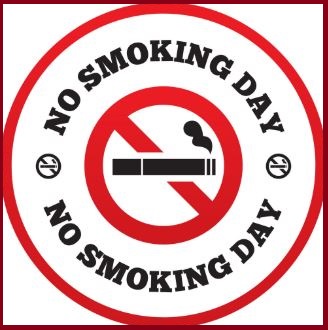 No Smoking Day Celebrations On 13th March 2019: Details, Aim, Significance
No Smoking Day is observed every year on the second Wednesday of March, to encourage people around the world to quit smoking.
No Smoking Day was first celebrated in the United Kingdom on Ash Wednesday in 1984, and it now takes place on the second Wednesday in March.
This year No Smoking Day 2019 is observed on 13th March (Wednesday).
No Smoking Day main aim is to spread awareness about the harmful health effects of tobacco consumption through the cigarette and other modes.
Smoking or chewing tobacco is one of the worst habits one can adopt. The health risks are known to all but still thousands of youth, between 12 to 17 years of age, start smoking each day.
Effect of smoking starts with coughing and throat irritation accompanied by bad breath and bad smelling clothes. It also leads to a patchy skin and discoloration of teeth
In India, any tobacco user willing to quit tobacco can give a missed call on 011-22901701 for registration and can get proper guidance.
India was also ranked 5th among 206 countries in Cigarette Package Health Warnings: International Status Report 2018 released by Canadian Cancer Society