Updated By: LatestGKGS Desk
United States to sell 24 'MH 60 Romeo Seahawk' helicopters to India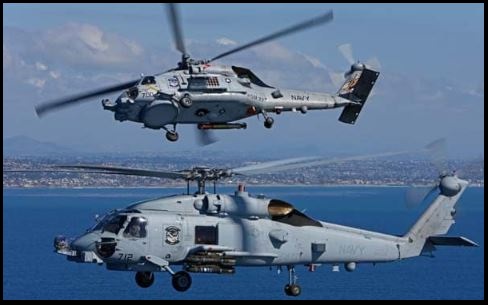 United States to sell 24 'MH 60 Romeo Seahawk' helicopters to India: Details
The United States will sell 24 multi-role MH-60 'Romeo' Seahawk helicopters to India at an approx cost of 2.4 billion US dollars. This announcement was made by the US State Department on April 2019.

The MH-60 Romeo Seahawk helicopter is regarded to be the world's most advanced maritime helicopter.
The MH-60 Romeo Seahawk helicopter being built by Lockheed Martin, the helicopters are designed to hunt down submarines, as well as knock out ships and conduct search-and-rescue operations at sea.
They will provide the Indian defense forces with the capability to perform anti-surface and anti-submarine warfare missions along with the ability to perform secondary missions including vertical replenishment, search and rescue, communications, frigates, destroyers, cruisers, and aircraft carriers.
India will use the enhanced capability as a deterrent to regional threats and strengthen its homeland defense.
Latest India And United States Updates