GK Questions 29th April 2019 General Knowledge, Current Affairs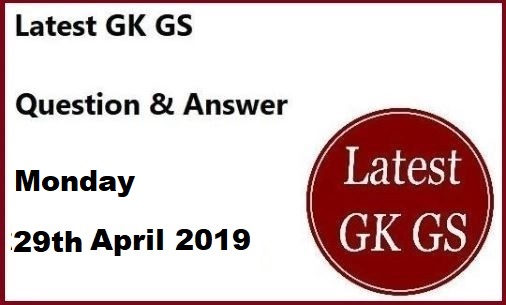 Daily GK Questions 29th April 2019 General Knowledge, Current Affairs
1. When is the International Dane Day is celebrated around the world?
Ans:- 29th April 2019
2. How many medals did India win at Asian Wrestling Championship?
Ans:- 16 medals

3. What did Facebook ban on its platform?
Ans:- Personality Quiz Apps

4. The voting for the 4 phase of Lok Sabha Elections 2019 begins on 29th April 2019, for how many constituencies?
Ans:- 71

5. What is the name of Australia's first female umpire to stand in any Men's ODIs?
Ans:- Claire Polosak (Australia)

6. When is the Ayushman Bharat Diwas is celebrated in India?
Ans:- 30th April 2019

7. What is the name of the first time Indian to feature his name in the Fortune 2019 list of world's greatest leaders?
Ans:- Arunachalam Muruganantham

8. What is the name of the cyclone that has developed in the South East Bay of Bengal?
Ans:- Cyclone Fani

9. What are the names of two terror outfits that the Sri Lankan Government has banned following serial blasts in April 2019?
Ans:- NTJ & JMI
10. What is the name of the new book released authored by journalist Saba Naqvi?
Ans:- "Politics of Jugaad: The Coalition Handbook"