Updated By: LatestGKGS Desk
GK Questions 11th May 2019 General Knowledge, Current Affairs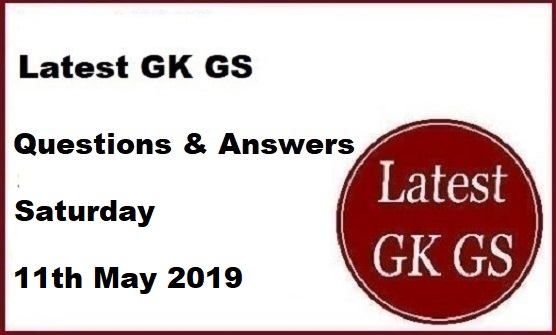 Daily GK Questions 11th May 2019 General Knowledge, Current Affairs
1. When is the National Technology Day celebrated?
Ans:- 11th May
2. Which magazines recently released its cover featuring the image of PM Narendra Modi with the headline 'India's Divider in Chief'?
Ans:- TIME

3. Which state police deployed the first ever anti-Naxal women's commando unit??
Ans:- Chhattisgarh
4. Iran has given how many days to the European Union, Russia, and China to implement its commitments to the 2015 nuclear deal??
Ans:- 60

5. According to the UN Report Why Royal Bengal Tigers survival is in danger?
Ans:- Climate Change & Rising Sea Level
6. Which nation has passed a new bill to fight fake news?
Ans:- Singapore

7. From when Chardham Yatra begins?
Ans:- 7th May 2019

8. Which place did Facebook choose as a base for WhatsApp Pay?
Ans:- London

9. India's new species of reddish-brown pit viper was recently discovered in which state?
Ans:- Arunachal Pradesh

10. Which day is celebrated as International Nurse Day?
Ans:- 12th May