Daily Current Affairs 12th May 2018 GK GS Bulletins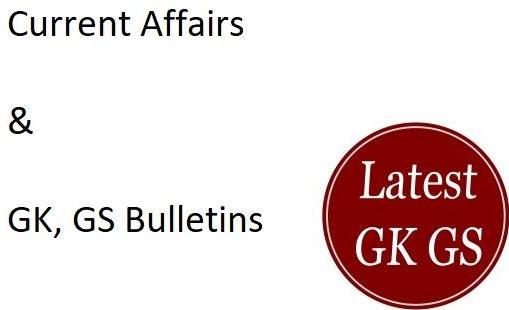 Daily Current Affairs GK GS Bulletins
1. Prime Minister Narendra Modi reached Nepal on 11th May 2018, for a two-day state visit with an objective to take forward the issues of mutual interest and partnership across diverse sectors.
2. National Technology Day was celebrated across India on 11th May to mark India's technological advancements and to promote the development of technology in various fields.
3. Vice President Venkaiah Naidu on 11th May 2018 reached Peru on the third leg of his three-nation visit to Central America.
4. 6th Biennial United States-India Aviation Summit, a two-day event was concluded on 11th May 2018 in Mumbai, Maharashtra.
5. Minister of State (I/C) for Tourism and Minister of State for Electronics and Information Technology, K. J. Alphons attended the Tourism Ministers' conference by Shanghai Cooperation Organization (SCO) in Wuhan, China.
6. The World Robot Conference-2018 will be held from 15th August 2018 to 19th August 2018 in Beijing, China.
7. Telangana government has launched Rythu Bandhu (friend of farmers) Scheme, a financial investment support scheme to support the livelihood of farmers
8. The Kerala government has approved a new Surrender-cum-Rehabilitation Scheme for Maoists operating in the Kerala state.
9. Former Indian Test cricketer and Delhi fast bowler Rajinder Pal dies at the age of 80 years in Dehradun.
10. Pawan Kumar Agarwal has been given 3 months extension as Chief Executive Officer (CEO) of the Food Safety and Standards Authority of India (FSSAI).
11. The Government of India introduces Helpline Number '14422' for registering 'Lost & Stolen Mobile Devices' complaints.
12. Indian state Arunachal Pradesh gets its biggest Solar Plant situated at Energy Awareness Park.
13. Facebook announced that the company's Vice President of Product Chris Daniels will be taking over Whatsapp after Co-founder Jan Koum announced his departure, recently.
14. Nisha Bhalla, a 46-year-old holistic coach and consultant from Mumbai was felicitated at the recently concluded Annual Women Economic Forum (WEF) 2018 Awards.
15. Haryana government has decided to start 31 government colleges for girls education from July 2018.
16. Mahathir Mohamad was sworn in as Prime Minister of Malaysia. He at the age of 92 years old becomes the oldest Prime Minister in the world.
17. According to the Times Higher Education Emerging Economies University Rankings-2018, IISc was ranked 13th, up from its previous position of 14, IIT Bombay maintained its ranking of 26. IIT Kharagpur was placed at 45th position.