Updated By: LatestGKGS Desk
Daily Current Affairs 15th May 2018 GK GS Bulletins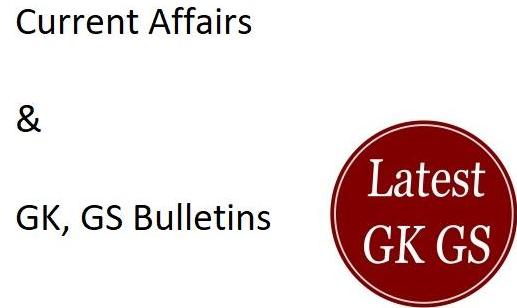 Daily Current Affairs GK GS Bulletins
1. International Day of Families is celebrated on 15th May 2018 to spread awareness about the issues that relate to families and to enhance knowledge of the economic, demographic and social processes that affect the families.
2. PM Narendra Modi will visit Russia for Informal Summit with Russian President Vladimir Putin on 21st May 2018.
3. United Nations Development Programme (UNDP) has planned to establish skill development centres for clients of 'Bharosa', an integrated support centre for distressed women and children in Hyderabad, Telangana.
4. Nepal will host Bay of Bengal Initiative for Multi-Sectoral Technical and Economic Cooperation (BIMSTEC) Summit-2018.
5. India and Peru signed an agreement in the field of Renewable Energy. The agreement was signed in the presence of Vice President M Venkaiah Naidu and the Prime Minister Cesar Villanueva Arevalo.
6. Reserve Bank of India (RBI) has barred Dena Bank for giving fresh credit and new hiring staff in view of high Non-Performing Loans
7. According to Fitch, India's GDP growth rate is expected to 7.3 % in the Financial Year 2018-19 and 7.5per cent in Financial Year 2020.
8. Indian Customs and Department of India Posts held a First ever Joint Conference at Vigyan Bhavan in New Delhi to deliberate on streamlining of imports and exports by post.
9. Prime Minister Narendra Modi and K P Sharma Oli have jointly laid the foundation stone of the 900-megawatt Arun III Hydroelectric Power Plant.
10. India and Myanmar have signed seven agreements including land border crossing during the visit of Minister of External Affairs, Sushma Swaraj.
11. Kerala has signed a memorandum of understanding with the National Thermal Power Corporation(NTPC) for increasing solar power generation in the state.
12. Vinita Bhardwaj and Mukund Agarwal have won the Gold Medal in mixed air rifle in the International Shooting Competition in Hannover, Germany.
13. Former Rajasthan minister Ram Kishan Verma has passed away passed away recently. He was 77 years old.
14. Prime Minister Narendra Modi and his Nepalese counterpart KP Sharma Oli have jointly inaugurated a direct bus service between Janakpur and Ayodhya
15. India's Uvena Fernandes has been selected to officiate as an assistant referee in the FIFA U-20 Women's World Cup.
16. Munu Mahawar has been appointed as the next Ambassador of India to Oman.