Updated By: LatestGKGS Desk
20 May: World Bee Day 2019 Theme, Details, Aim, Significance, History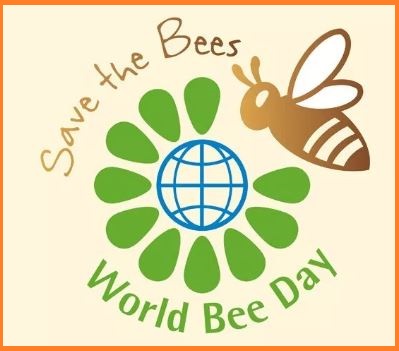 20 May: World Bee Day 2019 Theme, Details, Aim, Significance, History
World Bee Day is celebrated every year on 20th May around the world to raise the awareness of the importance of pollinators, the threats they face and their contribution to sustainable development.
World Bee Day-2019, the theme of this year is "Save the Bees".

World Bee Day was declared by the United Nations General Assembly and it was celebrated for the first time on 20th May 2018 in Slovenia.
World Bee Day also marks the birthday of Anton Janša who pioneered the modern beekeeping techniques in his native Slovenia in the 18th century.
Slovenia had proposed to celebrate May 20 as World Bee Day. In December 2017, The United Nations and UN Member States approved Slovenia's proposal and since 2018 this day is celebrated.
Significance
Bees and other pollinators, such as butterflies, bats, and hummingbirds, are important carriers as they allow many plants, including many food crops, to reproduce. Not only do pollinators contribute directly to food security, but they are key to conserving biodiversity - a cornerstone of the Sustainable Development Goals. They also serve as sentinels for emergent environmental risks, signaling the health of local ecosystems.
At present, Pollinators are increasingly under threat from human activities, invasive insects, pesticides, land-use change, and monocropping practices may reduce available nutrients and pose threats to bee colonies.