Updated By: LatestGKGS Desk
India's DRDO Test Fires Guided Bomb from Su-30 MKI Fighter Jet at Pokhran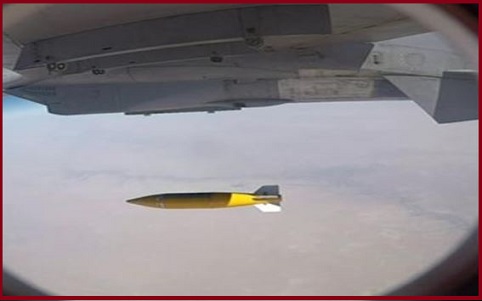 India's DRDO Test Fires Guided Bomb from Su-30 MKI Fighter Jet at Pokhran: Details, Features, Destruction Capabilities, Significance
India's Defence Research and Development Organisation (DRDO) on 25th May successfully test-fired an indigenously-developed 500 kg class guided bomb from a Sukhoi (Su-30 MKI) fighter jet at Pokhran in Rajasthan.

As per the officials, Guided bomb achieved the desired range and hit the target with high precision. It has onboard navigation and guidance systems
The winged version of the guided bomb has a range of up to 100 km whereas the non-winged version has a range of 30 km and in the future, the range will be enhanced to 100 km.
A guided bomb also known as a smart bomb or guided bomb unit (GBU) is a precision-guided munition designed to achieve a smaller circular error probable (CEP).
Earlier, two-days before the Indian Air Force (IAF) has successfully test fired the aerial version of the supersonic BrahMos cruise missile from a Sukhoi fighter jet at the Andaman and Nicobar Islands.
The BrahMos cruise missile is a 2.5-tonne air-to-surface missile has a range of around 300 km, and it will significantly enhance the IAF's combat capability. It travels at a speed of Mach 2.8, nearly three times that of sound.
Latest Defence Research And Development Organisation (DRDO) Updates