DIPP Releases First Ever States' Startup Ranking 2018': Gujarat Ranked Best Performer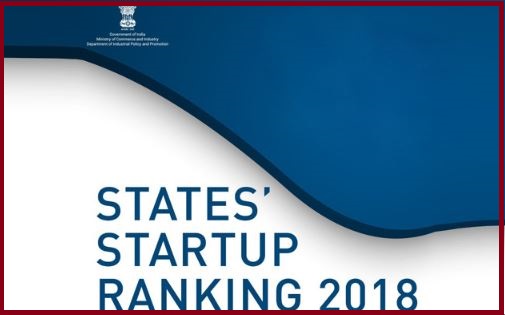 DIPP Releases States' Start-Up Ranking 2018: Gujarat Ranked Best Performer- Details, Aim, Rankings
The Department of Industrial Policy and Promotion (DIPP) on 20th December 2018 released the results of the first-ever States' Start-up Ranking 2018.
The DIPP started the exercise to review the Start-up ecosystem of the states from January 2016. It reviewed a total of 27 States and 3 Union Territories in the exercise.
The main aim of the exercise was to encourage States and Union Territories to take proactive steps towards strengthening the Start-up ecosystems in their states.
The DIPP reviewed the States as leaders across various categories such as Start-up policy leaders, incubation hubs, seeding innovation, scaling innovation, regulatory change champions, procurement leaders, communication champions, North-Eastern leader, and hill state leader.
Rankings

1. Gujarat was ranked as the "Best Performer" in the States' Start-up Ranking 2018. Gujarat achieved the top position by allocating Rs 100 Crore budget for Startups and provided assistance to 200 projects.
2. Karnataka, Kerala, Odisha, and Rajasthan, with a score of more than 85 percentile, have been adjudged the "Top Performers".

3. Andhra Pradesh, Bihar, Chhatisgarh, Madhya Pradesh, and Telangana have been recognised as "Leader".
4. Haryana, Himachal Pradesh, Jharkhand, Uttar Pradesh, and West Bengal recognised as "Aspiring Leaders".
5. Assam, Delhi, Goa, Jammu & Kashmir, Maharashtra, Punjab, Tamil Nadu, and Uttarakhand as the "Emerging States".
6. Chandigarh, Manipur, Mizoram, Nagaland, Puducherry, Sikkim, and Tripura recognised "Beginners".