Commerce Ministry releases report on Industrial Park Rating System in New Delhi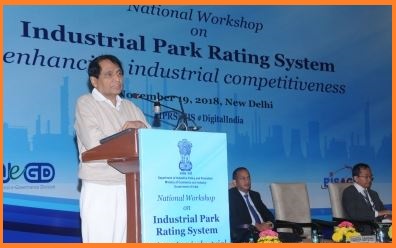 Commerce Ministry releases report on Industrial Park Rating System in New Delhi: Details, Significance, Highlights
Union Ministry of Commerce & Industry has released a report on Industrial Park Rating System (IPRS) on 19th November 2018. It was launched by Minister of Commerce and Industry Suresh Prabhu at a national workshop in New Delhi.
This report on Industrial Park Rating System (IPRS) is a part of the government's vision to make India a 5 Trillion Dollar economy out of which 20% is expected to be generated from industries.
It would help increase the competitiveness of industries and the promotion of the manufacturing sector as it would assess the parks against global standards.
As industrial parks play a major role in the growth of the industrial sector in India, this will help enhance the competitiveness of industries in India.
Thus good infrastructure will bring down the cost of doing business in India and provide a conducive environment for investments in industrial sectors.
The IPRS database includes 3000 parks and all the industrial parks will be rated on the following 4 key points:

1. Internal infrastructure
2. External infrastructure
3. Business services and facilities
4. Environment and safety management
The IPRS system would assess 200 such parks on several parameters such as sewage effluent and treatment; and water treatment
At present, there are over 3,000 industrial parks in the country in sectors including engineering, software, food processing and chemicals.