Updated By: LatestGKGS Desk
Bishnoi Movement 1730: Cause, Effect and Result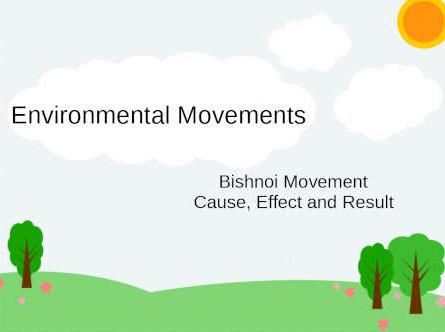 What is the Bishnoi movement?
This was one of the Major Environmental Movement of India.
The Bishnoi society is India's leading environmentalists at that time, who inspired the Chipko movement in 1973.
Amrita Devi Bishnoi and some Bishnoi villagers of khejarli, Marwar (in Rajsthan) are the leading protestors of this heroic movement.
Why did this happen?
The Maharajah (King) of Jodhpur decided to construct a new palace in 1730, nearly 300 years after 29 principles were recorded by Guru Jambaji. He sent troops from the woodlands near the village of Khejarli, where villagers from Bishnoi contributed to the promotion of abundance of khejri (acacia) trees.
They refuse the king's men to cut the tree in their village this results in 363 peoples along with Amrita Devi were killed for trying to protect the tree.
For their sacrifices towards the environment, wildlife, Green living Bishnois considered the first environmentalist in India.
Amrita and Some Bishnois face severe death but this idea gives inspiration to the next generation and helped to make chipko movement successful
Latest Environmental Issues Updates