Updated By: LatestGKGS Desk
COP 14: Delhi Declaration adopted to Land Degradation Neutrality (LDN), Key Points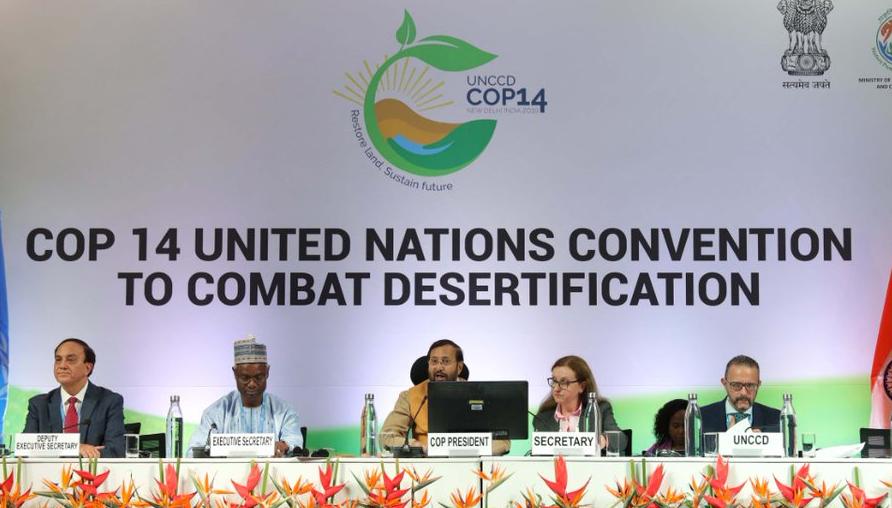 Delhi Declaration COP 14: A statement of Global Action to achieve Land Degradation Neutrality
The 14th Conference of Parties (COP14) to the United Nations Convention to Combat Desertification (UNCCD) concluded in Greater Noida with member countries the Delhi Declaration.
About:
COP14 to UNCCD ended with a commitment to achieve Land Degradation Neutrality (LDN) by 2030. Such Neutrality is defined by the UN as ensuring that enough land is available across the world to ensure a sustainable future.
Prakash Javadekar, India's Minister for Environment also promised to provide effective leadership to the UNCCD during his two-year presidency.
Key Points:
Promote projects to prevent land degradation, drought, and erosion at local, national and regional levels.
Create green jobs by promoting technology and investment in collaboration with all stakeholders.
Implement the UN Ecosystem Restoration (2021-2030) program on behalf of all countries.
It takes note of the launch of the Peace Forest Initiative and its potential contribution to increasing cooperation on land degradation neutrality.
Encourage local governments to adopt integrated land use management and enhanced land governance to rehabilitate the natural resource base.
COP-14 member countries appreciate India's efforts. PM Modi's efforts to achieve the major goal of land restoration and increase south-south cooperation were praised.
Latest Environmental Issues Updates