Updated By: LatestGKGS Desk
Chipko Movement 1973: Cause, Effect and Result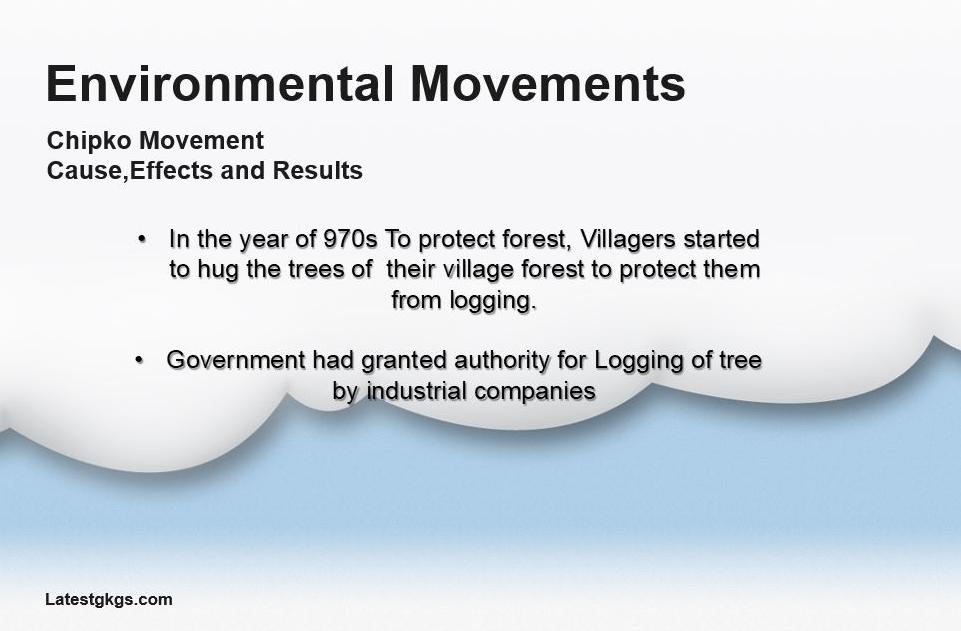 What is the Chipko movement?
In the year the 1970s To protect the forest, Villagers started to hug the trees of their village forest to protect them from logging. The government had granted authority for the Logging of trees by industrial companies. Villagers' movement became famous as the Chipko movement as they hug trees when authorities come to destroy jungle.
Why did this happen?
An Organization named Dasholi Gram Swarajya Mandal (DGSM), Founded by Chandi Prasad Bhatt to Discourage or Stop Industrialization in Rural Areas. Those Industries were Continuously Logging the trees of Forest of villages and that was linked to Severe flood and imbalance in nature and weather that was also destroying the crops in the fields so he
Then villagers led by Chandi Prasad Ji, especially women of Tehri-Garhwal village of Advani started tying the sacred thread around trees and trees trunks and hug the trees, to protect it from logging so it was known as a 'Chipko movement.'
In 1978, as women were faced with police shooting and tortures, the Chipko campaign gained traction. Then the Current Minister of State Hemwati Nandan Bahuguna get into this and after investigation finally ruled in the village's favor. The eco-development history of the country and the entire world has been turned into a turning point.
Latest Environmental Issues Updates