Updated By: LatestGKGS Desk
Four Himalayan Peaks Named After Atal Bihari Vajpayee at Gangotri Glacier, Uttarkashi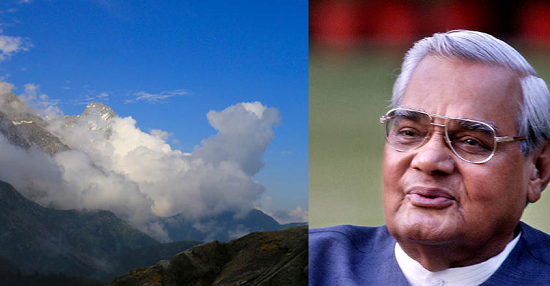 Four Himalayan Peaks Named Atal-1, Atal-2, Atal-3, and Atal-4 on the basis of height
The four anonymous peaks of the Gangotri Himalaya in the Uttarkashi district, successfully conquered by the Nehru Mountaineering Institute (NIM) and the Tourism Department on October 19, have been named after former Prime Minister Atal Bihari Vajpayee. A seven-member team under the leadership of Col Amit Bisht of Nim unfurled the Tricolor flag on four peaks Atal-1, Atal-2, Atal-3 and Atal-4 under a joint action campaign.
Colonel Bisht told that the team had left from Dehradun on 4th October for the ascendancy of 6557, 6566, 6160 and 6100 meters high, for the climbing of four unnamed peaks near Saifi and Sudarshan peak in the blood-valley valley on the right side of the Gangotri Glacier. Chief Minister Trivandrum Rawat flagged off this campaign.
The aim of this joint mission of the tourism department and NIM was to name four anonymous peaks of Gangotri Himalaya in the name of former Prime Minister Atal Bihari Vajpayee. Colonel Bisht said that for this successful documents of Arohan will be deposited in the Indian Mountaineering Foundation.
These peaks are named Atal-1, Atal-2, Atal-, and Atal-4 on the basis of height. Apart from Colonel Bisht, Avastar Visveswar Samwal (Vishnu), Udhadesh Bharat of Uttarakhand Tourism Council, Vijender Singh, Rakesh Rana, Anamika Bisht, and Jyotsna Rawat were included in the campaign.