Global Happiness Survey: India ranks 9th among 28 nations: Top Rankings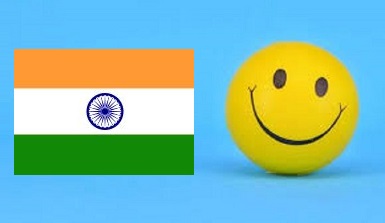 Global Happiness Survey: India ranks 9th among 28 nations: Top Rankings
According to the "Global Happiness Survey" released by market research firm Ipsos in France, India is ranked 9th with 77% on happiness index among 28 global markets.
The top determinants for Indians to stay happy are Personal safety and security, friends and feeling in control of life, good financial conditions, and physical well-being along with hobbies and interests.
There has been a 6% drop from 83% in 2018 to 77 percent in 2019.
Top Rankings
| | |
| --- | --- |
| Country | Percentage |
| Australia and Canada | 86% |
| China | 83% |
| Great Britain | 82% |
| France | 80% |
| United States | 79% |
| Saudi Arabia and Germany | 78% |
Bottom Nations
| | |
| --- | --- |
| Country | Percentage |
| Argentina | 34% |
| Spain | 46% |
| Russia | 47% |