Updated By: LatestGKGS Desk
Google Doodles Marks Work Achievements Of French Filmmaker Georges Méliès On 3rd May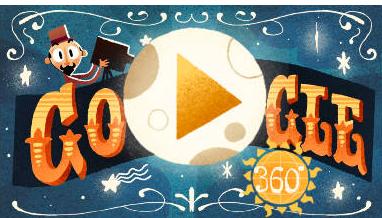 Google Doodles Marks Work Achievements Of French Filmmaker Georges Méliès With 360-Degree Video On 3rd May 2018
Google doodles is celebrating the life and work achievement of French Filmmaker Georges Méliès as a 360-degree video on 3rd May 2018.
Google doodle is unique today as this is the first ever 360-degree/VR doodles by Google.
Google doodle when clicked will open a 360-degree video of '2.10 minutes' titled 'Back To The Moon'.
As per the report, this 360-degree VR doodle has been created & developed by Google's doodle team in collaboration with Google Spotlight Stories and produced by London's Nexus Studios.
As per the report, Google for the first time had partnered with an outside production company for making a doodle Google also hired the London Symphony Orchestra to record the score for the short film.
The 360-degree/VR doodle will remain on the Google homepage for a period of 48 hours and the 'Back To The Moon' is also being distributed on the Spotlight stories app for iOS and Android.
As per the report, Google's production team had been working on the doodle art for 'Back To The Moon' since September last year.
Georges Méliès
Georges Méliès full name Marie-Georges-Jean Méliès was a French illusionist and film director who led many technical and narrative developments in the earliest days of cinema.
Georges Méliès was born in Paris in 1861 and lived there until he died in 1938.
Georges Méliès in his career spanning from1896 to 1914 produced, directed and starred in over 530 films. But unfortunately, most of these films are now lost and only 200 remains, some of his artwork includes: A Trip to the Moon (1902), The Vanishing Lady (1896), The Four Troublesome Heads (1898), Joan of Arc (1900) and others.